Lee Smith appointed Contracts Director
02 Nov 2020
Lee Smith appointed Contracts Director
We are extremely pleased to announce that Lee Smith has been promoted to Contracts Director.  In a move that also see's Rob Hughes take on the role of Operations Director, Lee becomes the first new appointment to the board of Directors in over five years.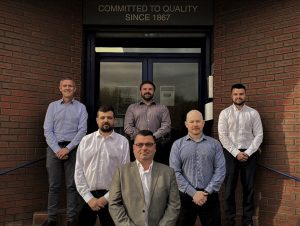 Lee started with Longworth in 1997 as part of the very first crop of apprentices to be employed by the roofing division at that time.  Starting alongside Lee that same month, was current Pre-Construction Director Steven Jones –
"Both Lee and myself started at Longworth in 1997.  Whilst I was purely office based, Lee began life with Longworth 'on the tools', learning the craft of traditional metal roofing and cladding.  His promotion to Director has been a long time coming and I am sure he will step up to next level with the energy and professionalism he has shown throughout his career here at Longworth"
Lee was initially paired up with a mentor, who was tasked with teaching him the intricacies of fully supported metal roofing.  That person was our now Operations Director Rob Hughes –
"Lee's career path with Longworth from his first day on site working with me on Knowsley Hall, right through to his appointment as Contracts Director is the epitome of what hard work, dedication, loyalty, along with his vast skill set can bring. I am truly looking forward to Lee bringing all of these attributes to our Board of Directors."
As Lee progressed through the ranks of apprentice to craftsman, it became clear to those who worked with him that his talents belonged in a Management role.  Lee was subsequently made a Contracts Manager in 2008.  In this role he would then start to have more input with other parts of the business, including working closely with our Procurement Director Stephen Barnett –
"I am delighted Lee's hard work, dedication and loyalty has been rewarded with a Directorship at Longworth. Over the many years I have known Lee, he has always been someone I have been able to rely upon given is exceptional knowledge in rainscreen, traditional roofing and flat roofing applications. His willingness to help anyone in the Company is commendable and he is great role model for all our fellow employees. Lee is a fantastic asset to the team here at Longworth and fully deserves the recognition and the responsibility of the Contracts Director Position. Lee joining the Board of Directors will only continue and strengthen the Company as one of the UK's leading Building Envelope Specialists."
Lee's role as Contracts Director will now be to build on the foundations that Rob Hughes has put in place during his time in the role.  Lee will be tasked with developing and fine tuning systems of work for the Contracts Department, working closely with our Commercial Director Karl Smith –
"Lee's technical expertise and construction knowledge are exceptional, and his ability to problem solve our most difficult problems on site have been an invaluable asset for many years.
It's a pleasure to welcome Lee to the board as we tap into this knowledge and empower Lee to develop and lead the Project team alongside the Operations Director.
I have no doubt Lee will thrive in this new role and be a fantastic leader as the business continues to grow."
Everyone at Longworth is delighted to see Lee has progressed his career to this next level, and we wish him success in his new role.
The final word comes from our Managing Director Paul Smith –
"From Apprentice to Director in 23 years is quite a meteoric rise through the ranks. And I am pleased to say that every step of that journey has been well earned, deserved and only served as spring board to Lee's next step up the ladder and the continuation of his successful career.
Every time Lee has been presented with a new challenge he has embraced it wholeheartedly, demonstrating the energy, drive, focus and determination to deliver our projects successfully, time and time again for our clients. With Lee's forward thinking and client facing approach, coupled with his approachable manner, I know Lee's additional to be Board will be a great asset to the business and welcomed, by the wider Longworth community and the Construction industry we serve."
What our clients say
"Longworth's knowledge, hands-on attitude and wealth of experience allows them to work with the architect and project team to turn complex designs into reality. We commend their positive and cooperative attitude towards design."

Jason Duggan - Architect, Capita Symonds