The Longworth Christmas Blog – #7 Sophie Booth
13 Dec 2019
  Longworth Blog Advent 2019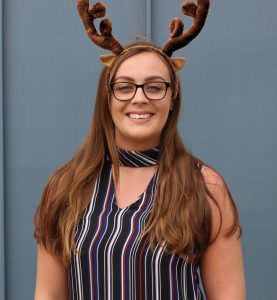 In the seventh of our Christmas Advent Blogs, our SHEQ Manager Melissa Fazackerley asks our Procurement Coordinator Sophie Booth the following question –
How do you feel about sharing any concerns, comments or suggestions in relation to SHEQ at Longworth?
Absolutely Fine! With SHEQ being so big in the Construction Industry, sharing and voicing anything is never over-looked… no matter how big or small, how serious or silly.
When it comes to sharing concerns, I would see this as being one of the most important elements within any work place.  Whether it is SHEQ related or not. Within Longworth's there is nobody you can't talk to about anything.  Everyone is always willing to help or even just listen.
One of my favourite things at Longworth is the "what's p*ssed you off box".  It allows everyone to get anything they want off their chest, whether its work related or even just getting stuck in traffic of a morning.  The Time to Change campaign has really helped with coming up with ideas like this to implement into what we do at Longworth.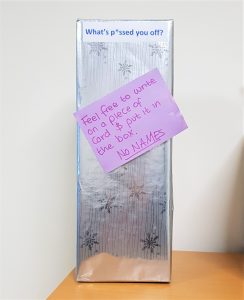 It's good to talk
It is very easy within our company to use both informal and formal avenues. For example, it is very easy for me to grab an individual or a group of people and gather round someone's desk and have a quick 5 or 10 minute chat. When it comes to formal we have arranged meetings such as handovers and pre-construction meetings in which people get invited to with a set time and date. Here we all meet in the board room to discuss comments, concerns and suggestions.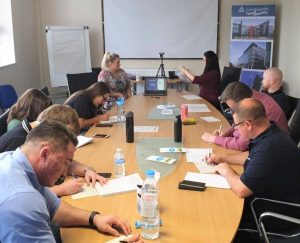 Looking at the future for SHEQ and at Longworth we are considering implementing a suggestion box.  Even though we can tell anyone our suggestions, it would be a good idea to have them down in one area which can be reviewed and executed over the year.
Like with anything there is always room for improvement but as a company I feel there is always time, no matter how busy, to share your concerns, suggestions and comments.
I know that I am confident in voicing anything within the company and I know everyone else is too.
What our clients say
"Longworth's expertise in the traditional metal roofing trade proved invaluable. We would like to thank them for working closely with us to achieve our original vision."

Katy Heath, Nightingale Associates