The Longworth Christmas Blog – #4 Gary Aspinall
09 Dec 2019
Longworth Blog Advent 2019

In the fourth of our Christmas Advent Blogs, our SHEQ Manager Melissa Fazackerley asks our Flat Roofing Supervisor Gary Aspinall the following question –
As the 2019 NWCSG 'Non Safety Professional' Award winner, what does health and safety mean to you as an individual and the roofing industry?
Winning the award was a total surprise.  I had no idea I was nominated and genuinely did not think I was going above and beyond what I thought was normal practice.  To be recognised as someone who goes the extra mile to improve health and safety in our industry was absolutely brilliant. The prize money went towards extending my tattoos.  In a funny way I now have a constant reminder that what I do is recognised, and its great motivation!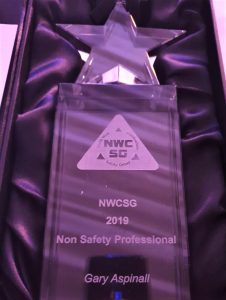 Good health and safety management, to me, means I am able to come to work and go home in a fit state. I am able to live a meaningful life outside of work including the usual DIY activities and walking the dog.  It might not sound like much but imagine an alternative.  All too often in the construction industry people's lives are changed for the worst and these trivial things come to light as something that really matters. I don't want that to happen to anyone in the industry.
I always have health and safety and the front of my mind when I am working. Before starting work, during and on my way home. With Longworth being a close knit family it is very important to look out for the health and safety of people I work with. I try to educate people more on what to do if they have any concerns.
The fact I sit on the Longworth SHEQ committee shows my commitment to improving health and safety in our industry. Longworth are showing huge commitment when it comes to health and safety and the fact that I have a voice that will be heard and action will be taken means a lot.
What our clients say
"Longworth's expertise in the traditional metal roofing trade proved invaluable. We would like to thank them for working closely with us to achieve our original vision."

Katy Heath, Nightingale Associates